Bite Investments' new whitepaper presents a strong case for private equity investments and important factors for success.
The report shares timely data which demonstrates the steady growth of the private equity market and explores the latest private equity market trends with data from 400 wealth management executives to identify key success factors specifically for fintechs working with wealth managers for High-Net-Worth individuals.
Through this research into private equity market trends and digital wealth management, we found that next to technological advances, ROI, diversification benefits, rising investor sophistication, and exclusivity are the prime drivers for private equity investments in the High-Net-Worth space.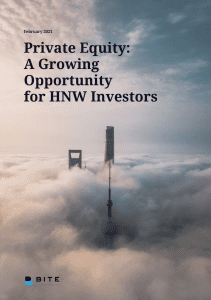 Download our whitepaper to:
Access survey data from close to 400 wealth management executives on what they see as driving High-Net-Worth investors' higher demand for private equity
Learn how fintechs can help wealth managers digitize, compete, and grow their businesses
Read more about alternative investments, their growth trajectory and geographical breakdowns
Better leverage current market trends and developments to capture new opportunities
If you want to learn more about the steady growth of the private equity market, please download our Private Equity: A Growing Opportunity for HNW Investors whitepaper.
About Bite Investments
Bite Investments provide a seamless end-to-end investment process. Our investor solutions software enables asset managers to provide a fully digital user service to their investor base, whilst our online investment platform allows the full spectrum of investors to invest in top-tier alternative investment funds in a streamlined process.