Private Market Firms investing in Digitalisation
Side Letter May 24th: Advent's timely $26bn; Cathay's €500m health kick; UK's climate crackdown 
(…)
They did the math 
Getting technical 
PE's enthusiasm for investing behind digitalisation trends is well documented, but what of their willingness to invest in their own digital future? Research from online fundraising platform Bite Investments (which we profiled here) and Mergermarket has found that almost half of private markets firms with more than $1 billion of assets under management plan to increase the amount they put towards internal digitalisation by up to 50 percent over the next two years, and 15 percent expect to spend even more.
Portfolio or fund management and analysis was flagged as a top priority for additional investment by large firms, followed by client or investor onboarding, relationship management and communication. For smaller firms, due diligence would be the primary beneficiary of digital spending.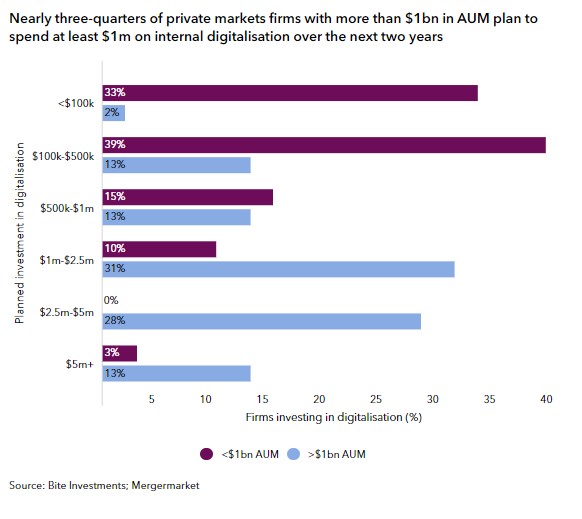 (…)
Today's letter was prepared by Alex Lynn with Adam Le, Rod James and Helen de Beer.