Digitalising Alternative Investments
A seamless end-to-end investment process
Bite is a global financial technology company that provides software-as-a-service (SaaS) to alternative asset managers and enhances connectivity to investors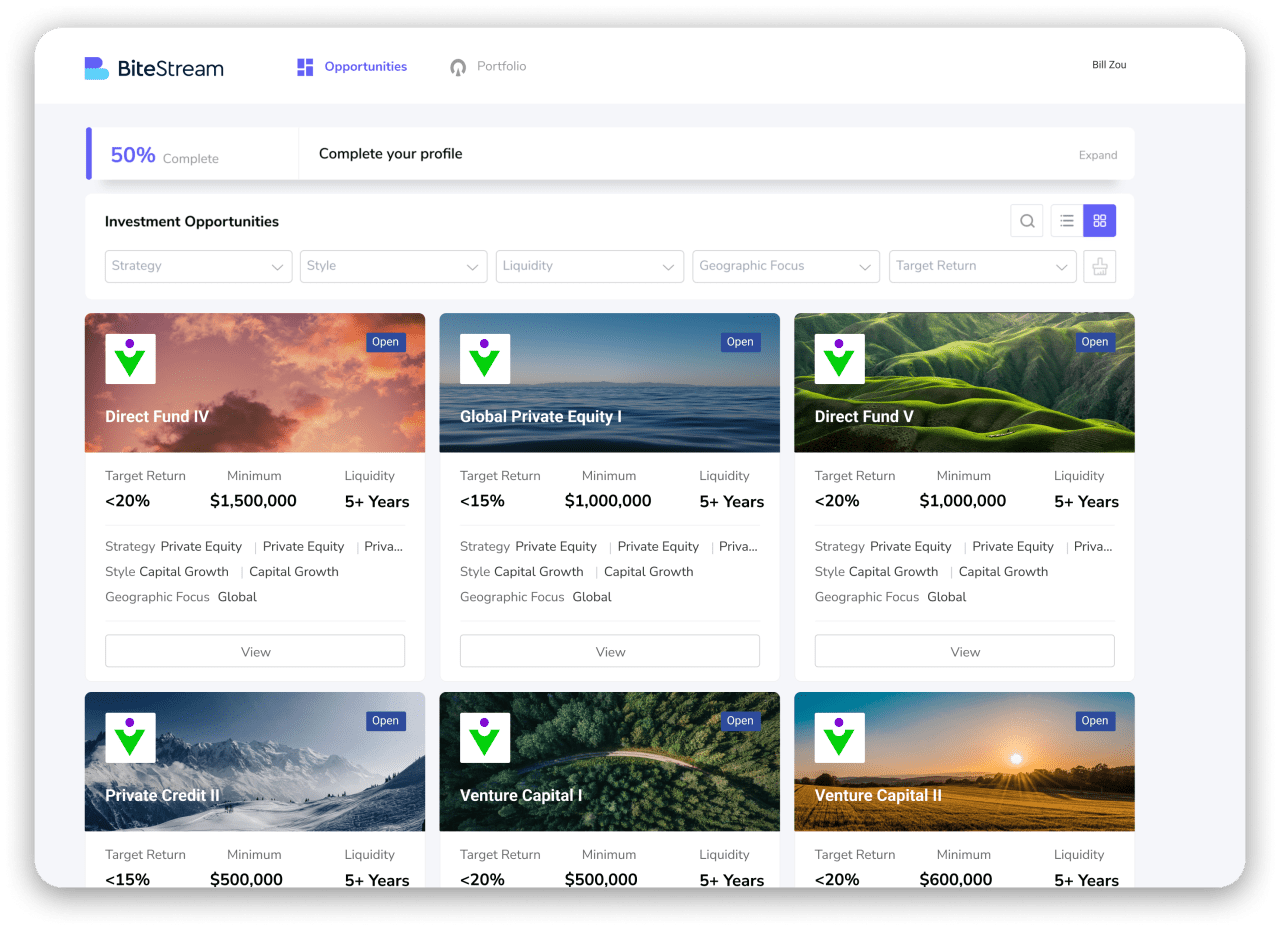 AN INVESTOR SOLUTIONS SOFTWARE TO STREAMLINE FUND OPERATIONS AND ACCELERATE DISTRIBUTION
Bite Stream's technology improves and expands access to the private markets through a customisable, end-to-end software solution providing a fully digital, intuitive and efficient investor experience for product launch, investor subscription, onboarding, and post investment events.
A DIGITAL MARKETPLACE FOR INVESTORS AND ADVISORS TO ACCESS ALTERNATIVE INVESTMENTS
Bite Investments offers high-net-worth and sophisticated investors, as well as wealth managers and their private clients, access to leading alternative investment opportunities, with lower fees and low investment minimum, from $100,000. We have built a seamless, end-to-end investment process that works in a few simple steps:
Outperformance of Private Markets
Private equity's attractive performance and lower correlation to traditional investments offers investors a useful tool in portfolio optimisation, allowing investors to benefit from the principle of diversification. By allocating a portion of their portfolio to private equity, investors can simultaneously improve returns while reducing volatility.
Source:
Neuberger Berman, showing blended portfolio returns over 25 years, ending June 30, 2018. It assumes quarterly rebalancing to the stated allocation (e.g., 70% bonds, 25% equities, 5% private equity). Bonds, stocks and private equity are represented by the Bloomberg Barclays U.S. Aggregate Index, S&P 500 and Cambridge Associates LLC U.S. Private Equity Index. Indices are unmanaged and not available for direct investment.
Past performance is not indicative of future results.
Bite is an award-winning fintech business with a global presence